I'm sure AMC wanted to milk off the success of Breaking Bad, but there's heart to Better Call Saul that separates it from being just another mundane spin-off.
Odenkirk is back as Saul, only we're introduced to him as Jimmy McGill, his real name. Where Breaking Bad followed Walter White's Transformation into Hiesenberg, Better Call Saul follows Jimmy's transformation into Saul Goodman. Gilligan has a talent for flipping the hero's journey on its head and telling the villain's journey instead.
Only Saul didn't get to see his journey through to its end; it got cut short like the opening music for the show. It begins where Breaking Bad left off with a snapshot of Saul's present day life on the lamb: a mundane 9-5 gig void of all colour. When he gets home he breaks out his VHS collection and watches one of his old commercials for drunken kicks. As the colour fades in, so do Saul's memories of how it all began.
The rest of the season takes place prior to the Strip-mall office days that we are familiar with and long after his conman days that we're unfamiliar with. He's in the interim of ignoring his past as Slipping Jimmy the conman and refusing his fate as Saul Goodman the sleazy lawyer. These early days show us an intelligent young lawyer with his heart in the right place. And Odenkirk sells it with all the kinetic energy of a pinball bouncing off flippers.
For example, In episode 8 "Rico" we find Jimmy fine tuning his new business goal in "elder law." After he finishes a will for one of his clients Mrs. Landry, she realizes that she doesn't have enough money left from her monthly allowance to cover the bill. Jimmy's interest is piqued, and after investigating some of his other clients "Monthly Allowances" he discovers some unique accounting practices used by Sandpiper Crossing that bilks the seniors living in there facility out of their old age funds. Fifteen dollars for a box of Kleenex, Ouch! When he decides to launch a class action suit against the corporation, even his ever-skeptical brother (Michael Mckean) is impressed by Jimmy's commitment to the right thing.
It takes a few episodes to get the groove of the show. With all the cheap suits, cheap cars and cheap tricks it's hard to see what Gilligan's going for. But when all of the different elements add up it's clear that he's harkening back to the gritty cop dramas of the 70's. Especially when we get the back story on Mike Erhmantrout. He's the other side of the gritty 70's crime drama like Doyle from The French Connection or Callahan from Dirty Harry only retired. Bank's balances the role perfectly as a man who is equal parts gentle father-law and clever badass. A man forced to do dirty deeds to help his daughter in law make ends meet.
One of those deeds is in episode 7 "Bingo." He tricks the slimy Kettlemans into giving up the location of their ill-gotten booty of cash by spraying a banded stack of cash and placing it on one of the kids toy trucks in the backyard. Mike waits and watches from a distance. When Papa Kettleman discovers the stack of cash, he rushes back into the house and along with his wife berates the clueless children. After the lights go out, Mike breaks into the house with a UV light and follows the luminescent trail of fingerprints right to the location of the Kettleman's money. The whole scene is reminiscent of A Scandal in Bohemia where Holmes insights panic to get Adler to give away her hiding spot—only difference is Mike doesn't need Watson to explain his plan too. The only thing that accompanies him on his silent walk through the house is an amazing jazz track by Chris Joss. It reminded me of the Quincy Jones soundtrack in 1971's underappreciated Sean Connery heist film The Anderson Tapes. The show takes all these elements, the gritty detective and the clever sleuth and balances them perfectly.
In the season finale, we see Jimmy edge ever closer to Saul. The episode opens in front of Jimmy's old hometown bar in Cicero, inside he finds his old pal Marco dozing at the bar, the same spot that the two said their goodbye's in years earlier. They immediately fall back into old form and scam a businessman sitting at the bar. Slippin' Jimmy is back! Over several days the pair pulls off a number of scams until Jimmy gets snapped back to reality by voice mail that beckons him home. Marco can't convince Jimmy to stay in Chicago, but does talk Jimmy into one final con. Unfortunately, Marco suffers a heart attack midway through the con. Jimmy calls for help, but it's too late. "This was the greatest week of my life," smiling Marco tells Jimmy before slipping away.
Saul returns to Albuquerque with Marco's pinky ring as a memento and heads to a meeting with Davis & Mane, who are considering him for partnership, something that Jimmy has always wanted. Suddenly, he stops, looks down at the ring, twists it, and then turns around. On the way out of the parking lot he asks Mike the question that has been eating at him: Why didn't' they keep the Kettleman's loot? Mike reminds Jimmy that he said, "Returning the cash was the right thing to do." Jimmy thinks for a bit and then replies, "I know what stopped me and it will never stop me again." He drives off with a smile on his face humming Marcos anthem, "Smoke on the Water". It would appear that the Saul we know is emerging.
Even if Better Call Saul's story doesn't interest you, the style alone should. Gilligan takes a modern day drama and perfectly stylizes it like a cool crime caper from the 70's. You don't just watch the show, you step into Saul's dirty suburban world. But amidst the ostentatious pinky rings and duffle bags, Gilliagan never veers the show into farce. He manages to humanize these caricatures in characters; He gives the backstory to the pinky rings and duffle bags.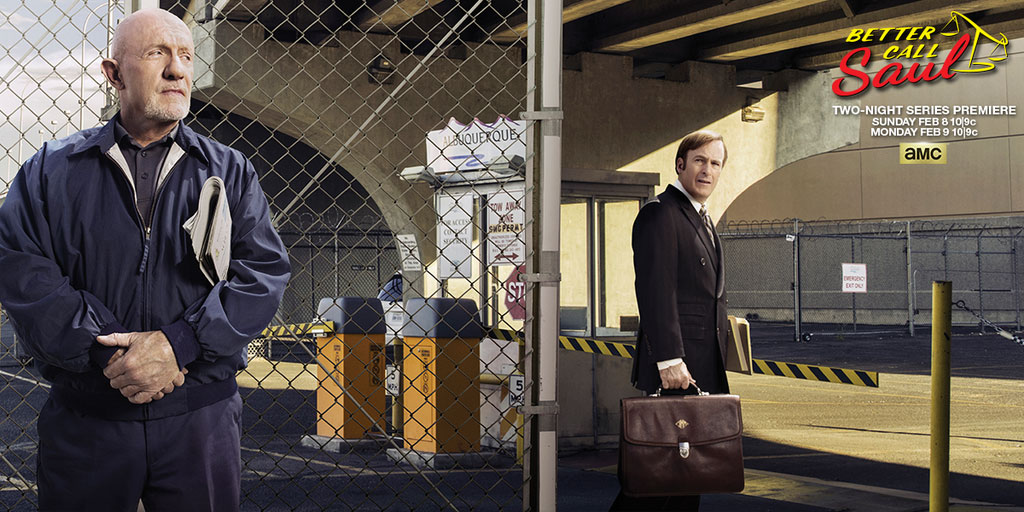 So, Don't write-off this spin-off. It's sad enough that these boys had their story cut short by Heisenberg's rise and decline, hopefully their prologue doesn't suffer the same fate from poor ratings. Their bang-on performances better receive Emmy nominations this time around. Odenkirk and Banks never received the recognition that they deserved for the original series. I'm not surprised Gilligan felt they needed a vehicle of their own.