Chappie has all the working parts for a great Sci-fi, but they don't fit.
Bloomkamp took ideals from the likes of Phillip K. Dick and repurposed it to fit his story, but they stand out as obviously as the ear repurposed to fit on Chappie's head.
 The complementary orange and blue metal parts that comprise Chappie are supposed to represent the Yin and yang. Mama and Papa are the feminine and the masculine; The white in the black and the black in the white.
The second act where Chappie get raised by these dueling forces is the best part of the film. His mom gets him to paint and his father tricks him into stealing back daddy's car. The thesis that violence is trained and not inherent is clear, but it's convoluted by all the play with consciousness—all of which is too easy.
For instance, in the first act, a tech geek drinks red bull and hammers out the first conscious A.I. There's no process to it, it just kind of happens and the audience is forced to accept it. At the end of the second act Chappie isolates his consciousness from his metal body, and by the end of the third act he isolates the human consciousness from its meat bag. Maybe Blomkamp didn't have enough time to write a third draft because throughout the film these revelations on consciousness are made without any explanation why.
And the third act is where it gets messy: Mama dies at the end of the film, but just before the credits roll, the film shows a flashback to the second act where Chappie downloaded her consciousness to a USB. He uploads her to a bitchin' new Metropolis body and the film fades to black.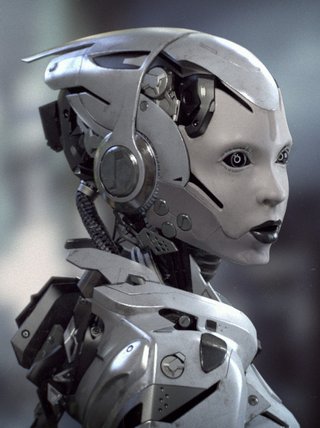 It's fun and all but what was the Mama that we saw in the third act? If her conscious is trapped in the USB like some kind of 18Gig hell, then what commanded her fleshy vessel for the last bit of the film? Sci-fi dictates that she is a shell without a ghost. But if she was conscious in those last moments before she died, then Chappie only copied her conscious, he never captured it. She won't remember dying. This whole scenario reminds me of the Prestige—pre-mullet Jackman—where a magician copies himself and kills those copies to make a buck. It leaves the audience feeling hollow because the film is stating that the conscious can't transcend the boundaries of the vessel. But this is Chappie's happy ending; Mama's conscious mind didn't survive, it just got cloned. Chappie, the scientist, and Mama, they all died and we're left with their back-ups.