As with the Harry Potter Series, the crew behind Fantastic Beasts and Where to Find Them balances moral and spectacle with relative ease.
For context, Fantastic Beasts takes place during 1925, only six years after the end of the war to end all wars, and right in the middle the American prohibition on liquor. I doubt very much that Rowling picked the date out of thin air because the common thread throughout Fantastic Beasts, is that of Repression.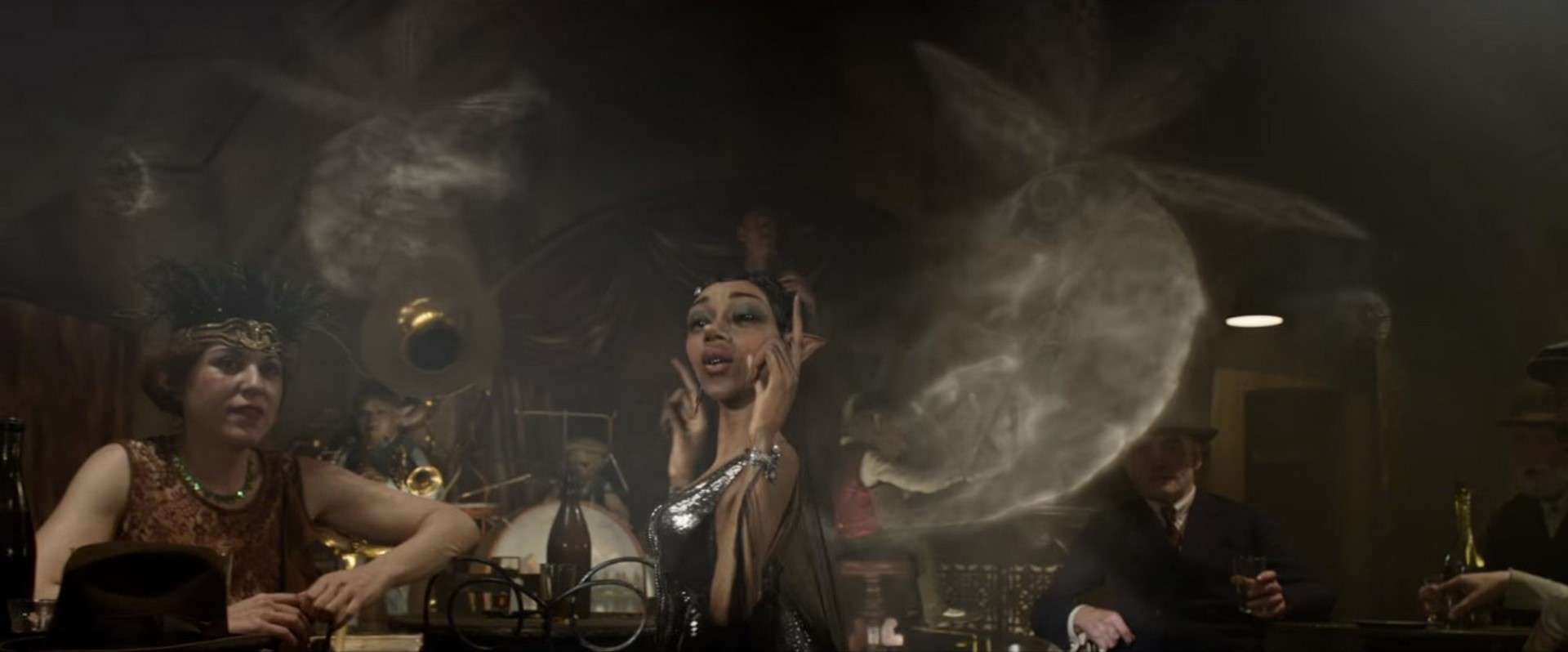 The people of New York are repressed. Whether you're a muggle or a wizard, you'll be hard pressed to get drunk off of giggle water. Socially, elves serve as a comment on segregation. Politically, magic is more repressed than ever because of a puritanical woman, who runs a local orphanage, has started a literal witch-hunt which has set the Magic HQ in New York on edge—they have a sort of terror alert clock in their lobby that's in the orange. Even when it comes to love, a non-mag (Muggle) can't court a wizard or witch. In general, people are unhappy and have their fun behind closed doors.
Our heroes are as follows. Newt, a magical animal conservationist whose suitcase is the zoological equivalent of the TARDIS. Kowalski, a veteran who slaves away in a factory, kept alive by the dream of one day opening his very own bakery. Tina, a well-intentioned member of the magic police and, her sister, Queenie, who looks and sounds, like a woman in a vaudevillian act. They, of course, cross each other's paths and help each other to find several beasts that have escaped Newt's case and taken up shop in various places around New York.
On the domestic end of things, the children of the time are starved literally and emotionally. The aforementioned puritanical nut lashes the children under her care with a belt in order to suppress their adolescent urges. In some cases, the young wizards and witches have their magical abilities repressed and twisted into something monstrous, an entity unto itself, known as the Obscurous. One child's obscurous grows so large and unwieldy that it threatens the entire city. And Newt, with his prior knowledge of Fantastic Beasts, must band together with the others to stop it. The child isn't so much an enemy as a lost and broken individual.
This Obscurus, is the takeaway of Fantastic Beasts: The why of the narrative. As a metaphor, I'd hazard to guess that the Obscurus is what Alan Watt's might call the irreducible level of rascality. It can't be separated from the host without killing it, which means it's intrinsic to the being. In other words, the Obscurus is the inescapable evil in all of us. Bascially, it's like Peter Pan's shadow. Rather than embracing it, some folks try to press it down back to where it came from. Just let me step up on my soap-box for a second…
Ah-hem, this is a topic that needs to be talked about more, especially in the united states, where mental health seems to be so neglected that children and adults alike are repressed to the point of lashing out and becoming an Obscurus themselves.
Children may not pick up on this moral immediately amidst the grand spectacle of Rowling's world, but they will leave the theatre with the lesson that they shouldn't hide away their "Magic," whatever that might mean for them. I can say that with absolute certainty, because the moment I left the theatre I watched as a brother and sister battled wands with the white plastic straws from their coke cups. And that, beyond anything else, is what it's all about.