Fantastic Four is the sort of white buffalo cluster-fuck that comes along once in a blue moon.
And though it's not worth the price of admission, its worth catching this phenomenon before it disappears into obscurity on DVD.
I'd tell you what it's about but I'm still unsure. FF was plagued with a problematic director and a generally apathetic cast and crew. It lost it's original director, Trank, who wanted to take the film in a body horror direction—a la Cronenberg's Fly. If you're unfamiliar with Cronenberg's work, here's a friendly arm wrestling match to show you what I mean.
Perhaps I'm the only on who would have loved to see Tranks version of the Fantastic Four. I imagine it would be some crazy trip where the fantastic nuclear family of four gets dropped into a Cronenbergian nightmare. Or perhaps it would have been something akin to the Venture Bros' take on the Fantastic Four. If Trank had excuted it properly, it could have been a cult classic, but no matter what, it would have been disastrous at the box office.
So I understand the studios decision to take him off the job and find someone else. Unfortunately, due to budget restraints, they decided to keep Tranks footage rather than reshoot the whole thing, taking it in a more family friendly direction. So, we get this weird marriage of bubble gum dialogue and exploding heads. The tones are so incongruent, it hurt my brain.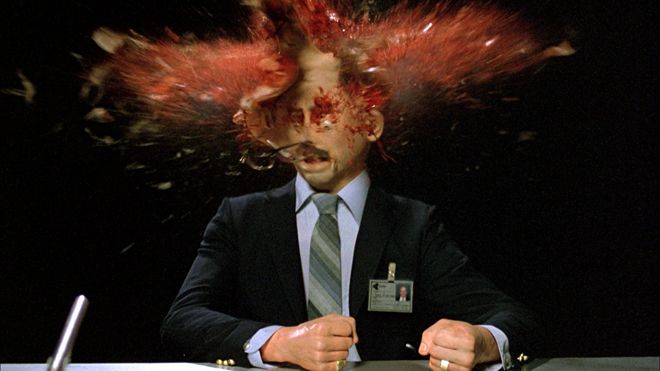 It reminds me of a little known B-movie by the name of Spookies, Cinemassacre did a review of it during his 80's-a-thon. It's a bi-polar movie in the same vein as FF, because it suffered the same problems. The first director used nearly all the budget for the film and the second director wanted to take the film in a completely different direction, leaving some poor bastard in the editing room to try and make sense of it all. Spookies was, and still is, the worst film that I've ever seen. But Spookies wasn't a Fox produced vehicle intended to be a blockbuster.
I mention this because the new FF looks and feels like a B-movie, only it's worse because the majority of B-movies at least have some semblance of heart, some evidence that the filmmakers were trying, even if they weren't all that good at it. Take Evil Dead—it's an incompetent mess, but Raimi and crew put their 'all' into the film and it shows. Even the the nineties version of Fantastic Four had more heart.
So the film has no heart, it's an incompetent mess, the story makes no sense, and it's release to theatres was nothing more than an bold attempt to try and make back profit on a film the studio knew was a disaster. So why do I recommend that you check it out? Let me answer the question with a question. Why is there an entire channel on you tube devoted to videos of people failing?