"Occasionally, I drop a teacup to shatter on the floor on purpose. I'm not satisfied when it doesn't gather itself up again. Someday, perhaps, that cup will come together." – Hannibal
I enjoyed the stylized first season of Hannibal, but after a sub-par second season, I wondered if they could repair the shattered series and come together in the third and—as it stands—last season? But, before I get into the recent TV series. I'd like to familiarize readers with the Hannibal film franchise.
The first adaptation of Thomas Harris's novel, Red Dragon, came out in 1986 under the title, Manhunter. Dino De Laurentiis was concerned about it being mistaken with his bomb from 1985 Year of the Dragon, so he changed the title. The film suffered because the people that read the book didn't realize it had been made into a film. Despite it's initial poor reception, it has garnered a cult following through the years after being released to video. Michael Mann's highly stylized visuals are enhanced by the films ambient synth soundtrack.
The great cast includes William Petersen as Will Graham, Dennis Farina as Jack Crawford, Stephan Lang as Freddy Lounds, Tom Noonan as Francis Dolarhyde, and the stand out performance of Brian Cox as Hannibal Lecter. If you think that Anthony Hopkins is creepy as Lecter, then I recommend that you check out Cox in the role. He manages to under-play the character, creating a superior intellectual, devoid of compassion, which is truly frightening. The film is true to the novel, but because of budget restraints, they were unable to pull off the climax described in the book. Instead, Mann comes through with a stylized shoot out at Dolarhyde's residence, paced by Iron Butterfly's "In-A-Gadda-Da-Vida." This was a great start to the franchise, even if didn't receive attention early on. If you haven't seen it, seek it out; You will not be disappointed.
Next up, Hannibal hits box office gold with director Jonathan Demme's Silence of the Lambs (1991). We are introduced to a new Hannibal, Anthony Hopkins, who has become synonymous with the role. Clarice Starling (Jodie Foster), is brought in by Jack Crawford (Scott Glenn), to interview Hannibal, in the hope that the cannibalistic serial killer can help in the pursuit of a new serial killer nicknamed "Buffalo Bill." Hannibal, the ever consummate intellectual, outsmarts everyone throughout the film, only helping the FBI in order to take care of his own needs.
Hopkins received an Academy Award for best actor from his performace. And it's deserved, the dialogue sticks with you long after it's over. The now 'iconic' scenes where he converses inside his glass cell allow Hopkins to max out the creepy meter. My personal favorite scene occurs after Lecter escapes; He calls up Clarice explaining that he won't pursue her as long as she extends him the same courtesy. He ends the call by mentioning that he's "having an old friend for dinner," Chilton, his ex-keeper from the Baltimore State Hospital for the Criminally Insane.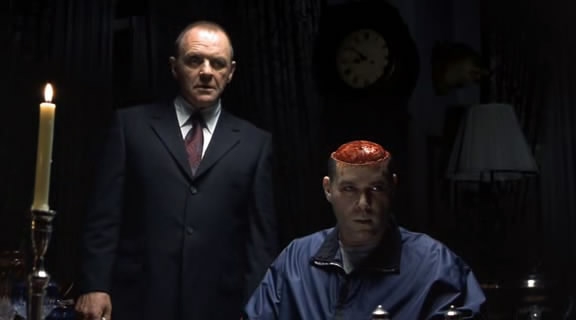 In 2001, Anthony Hopkins returns in Hannibal, but both Jonathan Demme and Jodie Foster drop out of the project. Hopkins almost dropped out as well – and after 15 rewrites, it's no wonder. Ridley Scott is hired to direct, Foster is replaced by Julianne Moore and Gary Oldman plays Mason Verger, a wealthy child molester whom Lecter left paralyzed and disfigured during a therapy session. Verger uses his influence and vast wealth to have Starling reassigned to Lecter's case. Verger plays everyone like pawns in a chess game, but Lecter is always one move ahead. There is the greedy Italian detective—well played by Giancarlo Giannini; a corrupt Justice Department official played by Ray Liotta; and of course Verger. Giannini loses his guts, Liotta gives Lecter a piece of his mind, and Oldman is an entrée for wild boars.
The most problematic aspect of the film comes after Lecter has dispensed with all of his adversaries: He's handcuffed to a fridge by Starling and cuts off his hand in order to escape. First, he's too smart to end up in such a position. Second, this is the same guy that used part of a pen to pick his handcuffs in the previous film. Third, Hannibal's main priority is Hannibal; he would never cut of his own hand. Another stain on the film is the obvious disinterest from the actors. Hopkins hams it up, collects his cheque, and goes home. And Gary Oldman didn't like how he was credited and had his name removed from posters—perhaps he just didn't want to be associated with the film.
A year later The Red Dragon is released. It only made sense that they remake Manhunter, now that they had Hopkins back as Lecter for the last time, and a bigger budget to work with. The rest of the cast is remarkable, Edward Norton as Will Graham, Ralph Fiennes as Francis Dolarhyde, Harvey Keitel as Jack Crawford, and Philip Seymour Hoffman as Freddy Lounds. Director Brett Ratner stayed true to the novel and let the actors do what they do best.
Ralph Fiennes, beefed up his physique for the role, making Dolarhyde more imposing, especially when he exposes the Red Dragon tattoo on his back. But he also manages to evoke sympathy for his character with nothing more than a subtle facial expression. Hoffman plays the part of Lounds like an old fashioned reporter who will go to any lengths to get the story—he's not slimy, just dedicated. In order to cash in on Hopkins popularity, they expanded the number of scenes between Hannibal and Will Graham in the prison. Fans are split on the two film versions of Red Dragon and although I like both films, I still think that Manhunter is the better of the two.
In 2006 Thomas Harris wrote Hannibal Rising, a prequel to his three previous Hannibal books, which gives his readers the origin of Hannibal. In 2007, the film Hannibal Rising is released, which is true to the novel, in fact Harris even wrote the screenplay. It looks like Harris and the studio had high hopes of introducing a new young Hannibal that could carry the franchise along.
The film has no popular actors and Hannibal is portrayed by an unknown French actor Gaspard Ulliel. This may have been a mistake or perhaps without Anthony Hopkins film viewers weren't interested. Either way, the film performed poorly, not even coming close to paying off its sizable budget. It's not terrible but we have seen the whole revenge idea played out much better in numerous other films and Gaspard Ulliel is just not capable of filling Lecter's shoes.
Stay tuned for Part 2, where I delve into someone who can.