Martian is the most recent entry in Hollywood's long standing fascination with getting Lost in Space, a fascination that's become more common lately with films like Interstellar and Gravity.
Arm-chair psychologist that I am, I could posit any number of  reasons why. Chief among them: the fear of absolute isolation. But I don't want to focus on such a heavy concept, because Martian doesn't either. It's a bit like Interstellar-lite. It's not an essay on man; it's a tale of survival—and a clever one at that.
Here's the rub: Damon's character, Mark Whatney, is left stranded on the planet Mars, and has to "Science the shit" out everything he has in order to survive until a rescue party arrives. The first thing I appreciated is the simplicity of the first act of the film. Whatney doesn't have any family cheering for him, or back home distractions. And apart from his excusable bits of exposition via journal, where he explains just how exactly he's science'ing the shit out of everything, Whatney doesn't say much either. His segments are quiet; his only company is the ambient musical score. All of this serves to offset the bustle of the NASA team working feverishly to get him back home.
Back on earth, each character, American or Chinese, is a moving part in the plan to get Whatney back home. There's some tension between the higher ups at NASA, Bean and Daniels about whether to spend millions and risk more lives to get one guy back. But Daniels is never lowered to the status of a mustache-twisting villain. Scott expertly fleshes out the human elements Daniels and the several other individual characters working at NASA. And in doing so, he side-steps what otherwise might have been a useless assembly of 2-D characters.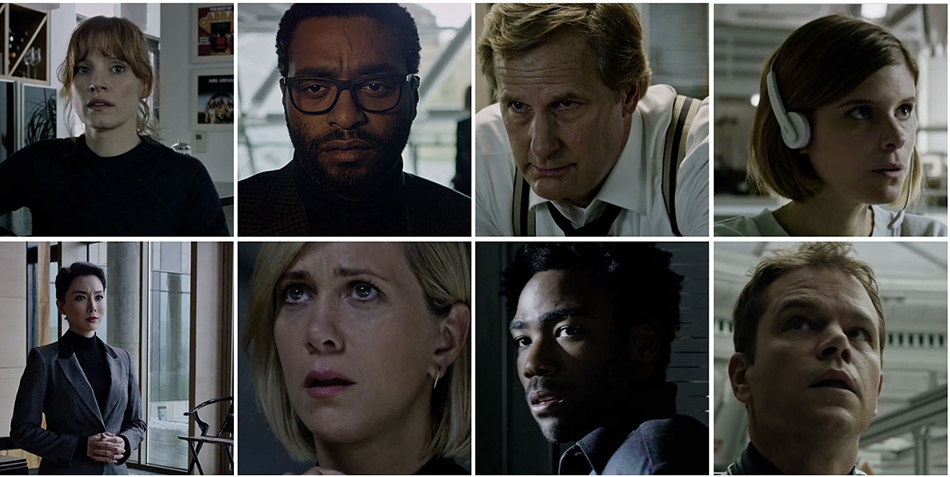 Scott perfected this talent in Alien, so it's no surprise that does it again with Whatney's crew. We spend maybe 15 minutes with them overall, and yet, each one delivers a solid performance. Though, it must be said that Michael Pena—as with Ant-man—is the glue that holds the crew together. He provides the comedy to humanize the group, but he never veers into the realm of comic relief. He keeps the group of astronauts grounded and his assertive nature keeps the audience engaged in the plight of the crew. They are, after all, putting their but on the line to save Whatney as well.
Whether it's the countless scientists at NASA or the Chinese Space Program, or Whatney's crew, or hell, even the millions on earth routing for Whatney, all of these characters come together harmoniously to get Damon back, not only in the story, but in the telling of the story. All of these working parts could have been a disaster, but Scott balances them well. So much so, that Martian doesn't feel like 3 separate camps. Instead, it plays out as one linear narrative about a fight for survival, and the lengths people will go to in order to keep a complete stranger alive. It's touching, but never in your face, which is why I recommend it.