Rick and Morty manages to shake most of the descriptors given to it.
So much so, that the normal 500 words that I a lot myself per review can't do it justice.
But here goes nothing:
Sci-fi has been described as philosophy for dummies. And if that's true then Rick and Morty fits the bill. It's a high-concept sci-fi disguised as a wacky adventure show. Despite it's loose content, there is a framework to each episode. Most times the family's home on earth acts as a launching pad for their adventures. Other times, after an especially trying quest, it acts as a grounding change of pace.
The basic concept is that Rick is a mad scientist that takes his grandson, Morty, on crazy sci-fi adventures. Every episode deals with asking some difficult question. But unlike most shows out there, it isn't arrogant enough to offer an answer. In fact—in defiance of most shows on TV—sometimes an episode will end with no resolve at all, leaving both Morty and the viewer despondent.
As you watch the show you cant help but feel sorry for Morty. Not only does he get a heavy dose of reality each episode, he also returns home to an unstable household: An unemployed father, a mother who's a closet alcoholic, and a sister that's just as lost as him. Though their adventures are often dangerous, Morty and his sister, Summer, seem to revel in the escape that their space adventures with Rick provide.
Another reason for their enthusiasm to escape the mundane is that Summer, Rick and Morty, often act as the mouthpiece for the creators of the show. Rick breaks the fourth wall the most, scoffing at the domestic squables that accompany overplayed cartoon family melodramas like Family Guy or The Simpsons. More often than not, Rick and Morty sidestep the boring family drama and go on crazy "ball fondling" adventures. Other times when zany new characters are introduced, Rick retaliates against the lazy writing by flat out murdering them.
There is an arch to the show, but like everything in Rick and Morty, it's very loose. Morty goes from being the innocent witness of Rick's atrocities and adventures, to clinging to whatever humanity he has left. And Rick takes an almost opposite arch. He's relatively constant as a nihilistic agent of chaos, but as the show progresses we get glimpses of why he is the way he is. He's got a lot of heart, but he'll die before anyone sees it—wuba luba lub dubs!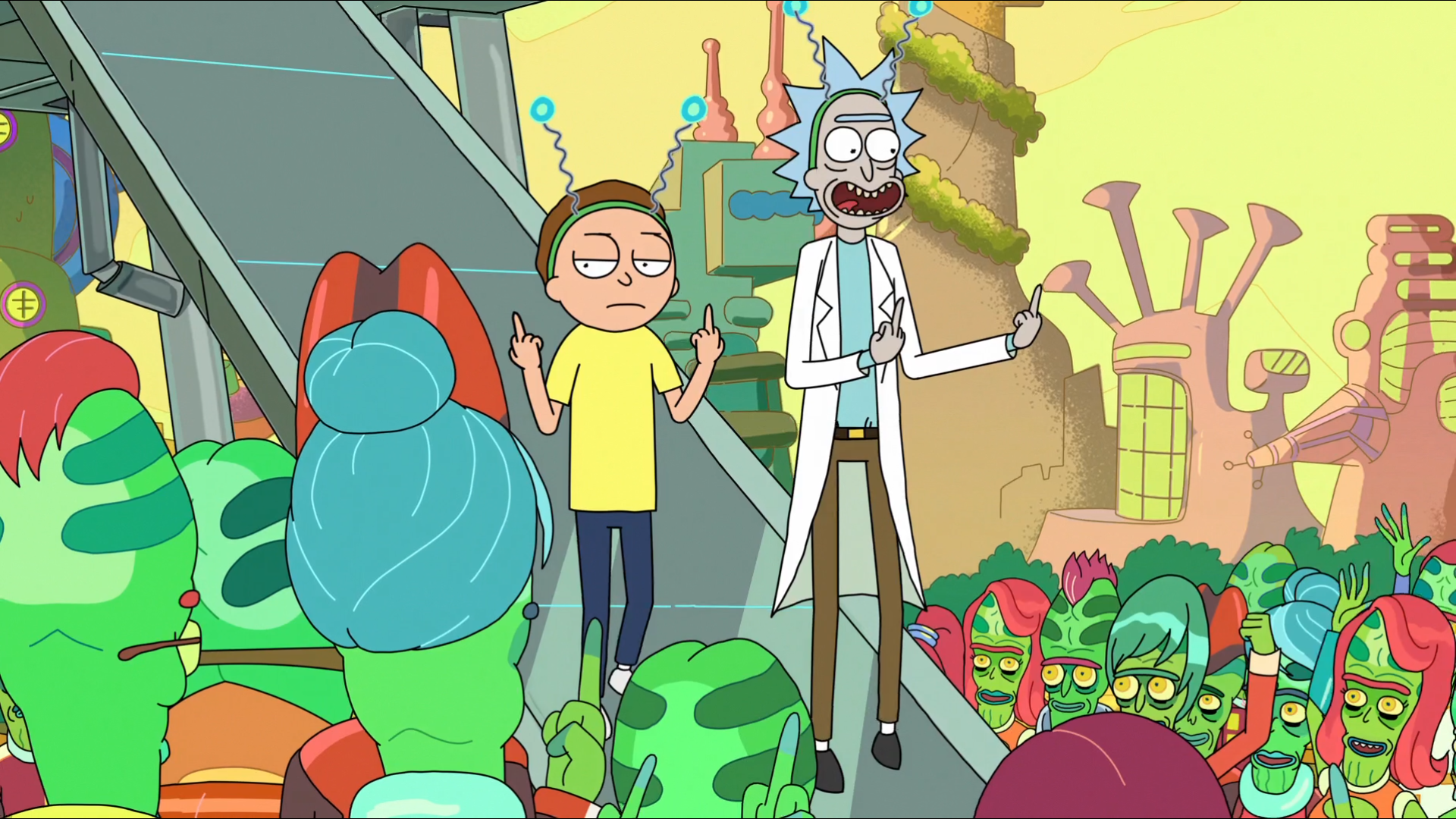 While the show regularly fucks with the norms, I don't think that there is a purpose or mission to it. And that's not surprising, considering one of Morty's speech's. If you're allergic to links, he goes on to explain that life has no purpose. And if that's something that the creators wished to communicate, then I doubt that the show will have an ultimate purpose either. But make no mistake, just because the family seems to float through space and time with no prime directive, does not mean that they don't experience an arch.
I recommend Rick and Morty to anyone that enjoys a space-time odyssey, or anyone that can find humour in the horror. It's chaotic and loose. But again, it's a show that's more about the ride than the destination—just watch the fucking show already.