Trumbo looks back at a shameful time in American history when the House of Un-American Activities began a witch-hunt on anyone who didn't agree with the puritanical & capitalist "American" values of the time.
In particular, the film focuses on Dalton Trumbo and nine other screenwriters who were blacklisted from Hollywood due to their communist leanings. The house exploited the fear of communism at the time and convinced the public that these writers—and many others—were conspiring for the downfall of American through the movie industry.
It's a serious subject that writer, Mcnamara, and Director, Roach, fashion into an entertaining & humorous movie. It's not a history lesson, as no film ever is, but the unjust and some might say unconstitutional treatment of the writers did happen. Trumbo's comfortable life as a popular, well paid screenwriter was shaken to the core when he was subpoenaed by the aforementioned HUAC to testify before congress and name names.
The hearing scenes seamlessly blend real archival footage with the cast of the film. He never gives up any pertinent information, giving a longwinded answer to every simple yes or no question. Because of this, he serves a year for contempt. The rest of the Hollywood Ten receive jail sentences as well. Edward G. Robison (Michael Stuhlbarg) is also put on trial, and while he betrays Trumbo and his fellow friends in the film, in actuality, he only named organizations.
Cranston embodies Trumbo, perfecting his mannerisms and snobby affluent accent. Louis C.K. plays Arlen Hird, a fictional composite of the other Hollywood writers. Their scenes together play out like a vaudevillian dialogue between a white-collar snob and blue collar stooge. As Arlen points out, Trumbo talks like radical but he lives like rich guy. Arlen also serves to humanize Trumbo; no matter how inflated Trumbo's ego gets, Arlen brings him down off his pedestal.
Upon release, the Hollywood Ten were faced with another challenge: The Motion Picture Alliance for the Preservation of American Ideals—that sure worked. Led by John Wayne (David James Elliot) and Hedda Hopper (Helen Mirren), the alliance tried to force all the studios not to hire any blacklisted writers. Mirren is deliciously evil as the 50's gossip columnist who wielded power the way TMZ does today, capriciously making or breaking stars.
Trumbo conceives a plan to write and sell the blacklisted writer's screenplays under different monikers to Frank King (John Goodman), of Kings Brother Productions, a B-level movie company. To paraphrase King, he didn't care if the papers called him a pinko, because none of the people that saw his film could read. Trumbo and gang churn out scripts like a factory. He writes none stop, much of the time in the bathtub, nourished by scotch, cigarettes and Benzedrine.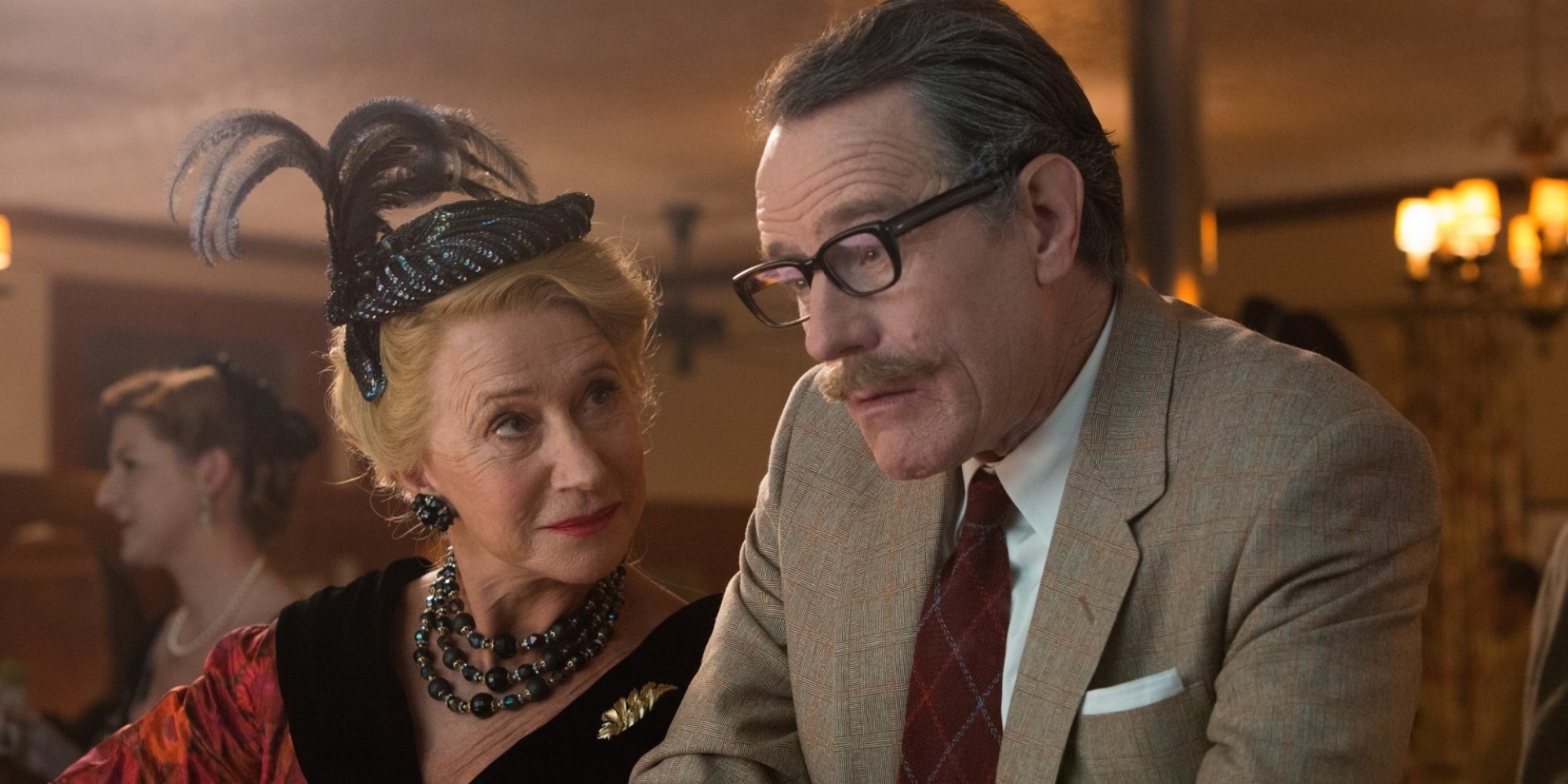 Technically Trumbo's nominated for two Oscars, Roman Holiday and the Brave One. After several years of rumours that the black market of writers is alive and well, the alliances pressure starts to crack, especially when Kirk Douglas's Spartacus and Otto Preminger's Exodus both list Trumbo as a screenwriter in their credits, something unheard of for a blacklisted writer. Soon after, other black listed writers started working again.
I find it interesting that Hail, Caesar! and Trumbo, two recent Hollywood films have decided to look back at this period in American History. It could be a reminder of the culture of fear that's persisted in the states since the cold war. It could also be a reminder that sometimes democracy fails. But I think Kirk Douglas gets to the heart of the matter: "If I have learned one lesson from history: It often repeats itself. I hope that Trumbo, a fine film, will remind all of us that the blacklist was terrible time in our country, but we must learn from it so that it will never happen again."